How crises are created
Lecturer: Andrey Gribov
Everything that you are taught in school and university is not entirely true. When you finish your studies, you will go into real life and it will turn out that it is not at all what is written in the tutorials.
You are already relatively adults and imagine that information from newspapers, TV and the Internet does not quite correspond to real life. Therefore, you must be critical of any information that comes to you.
Even in such a simple and exact science as mathematics, not everything is unambiguous: The sum of the angles of a triangle according to Euclid's geometry is always equal to 180 degrees, and according to Lobachevsky's geometry it is not always 180.
A simple example would be to determine the area of a rectangle. If you draw a rectangle on a desk, then its area is calculated by multiplying the two sides, and if the same rectangle is drawn, for example, on a tennis ball, then the area will be different. Because the ball is convex. Why? Because the measurement system is different.
The measurement systems we live in are changing very quickly. Under Marxism-Leninism, there were the subjects "History of the Party", "Political Economy of Capitalism" and "Political Economy of Socialism". Everyone was taught one thing, which more or less corresponded to the reality that was. And then life changed, perestroika took place, other changes took place, and life became completely different. And what was taught, did not correspond to life. That is, life has changed. But you can also change and become a little smarter in order to lose less in life, but it would be a little more fun and better to live. Therefore, I will try to explain what you will actually expect, and how you will get out of it. If you can, of course.
First of all, you need to take into account that there are some assumptions, and what I will talk about is not an exact science.
Even in the exact sciences, not everything is unambiguous: in mathematics, the product of two sides of a rectangle can give different indicators.
Similarly, in physics - Newtonian physics and quantum physics give different conclusions. This is not because someone wanted to deceive someone, but because life can be viewed in a huge number of dimensions. It is possible in 2, 3, 5, 10, and the result will not be exactly the same, but maybe the opposite.
What we are going to talk about - economics - is not an exact science at all - there are a lot of different views in it. Those who will teach economics will be told about a certain number of views. But in any case, this is a great theory that someone figured it out and tied it to something.
There is a saying in jurisprudence: 2 lawyers - 3 opinions. It seems that everyone thinks about the same thing, but everyone thinks completely differently. The same is true in economics. All textbooks say that crises occur naturally, that they are cyclical. That there is some kind of overproduction of goods, and sooner or later this overproduction of goods leads to some kind of crisis.
Maybe it happens, but in 30 years of doing business, I have not seen a single such case. It has been 30 years since I started doing business in 1989. I saw everything: both perestroika, and skirmishes, I have seen enough of crises over these 30 years with a large margin, but I have not come across a single natural crisis in real life. For the first 3-5 years, I attributed this to the fact that life had changed: there was socialism - there was capitalism. And then he began to analyze why crises occur, what is natural and unnatural in them. But those reasons about which I read all the time in books, took exams in the political economy of capitalism, socialism, I never came across.
In preparation for the lecture, I looked at what students are now being taught. I saw that there were a lot of theories of crises. In our time, there was only one - Marxist-Leninist, and now there are at least eight of them with a large margin. Interestingly, if these theories are added together, a figure close to zero will be obtained. It's like in Krylov's fable it will turn out: a swan, a cancer and a pike, each for his own. For example, I didn't manage to take some resultant and predict something, although I have 3 educations, a degree, etc.
Economic theories of the emergence of cycles
| | | | |
| --- | --- | --- | --- |
| ¹ | Name of the theory | The most prominent representatives | ÎExplanation of reasons |
| 1 | Theory of external factors | W. Jevons | The emergence of economic cycles is associated with the intensity of sunspots |
| 2 | Theory of industrial cycles | K. Marx, F. Engels | The emergence of crises is justified by the contradictions of capitalism; periodicity of crises - massive renewal of fixed capital |
| 3 | Theory of overaccumulation of capital | M. Tugan-Baranovsky, G. Kassel, A. Aftalion | Crisis phenomena arise as a result of the formation of disproportions in the structure of production, i.e. overaccumulation of fixed capital |
| 4 | Monetary concept | R. Hawtrey, I. Fisher | Crises arise as a result of disturbances in the field of money supply and demand |
| 5 | Keynesian theory | J. Keynes | The cycle is seen as the result of the interaction between the movement of national income, consumption and accumulation of capital, the weakness of the market mechanism |
| 6 | Theory of innovation | J. Schumpeter | The cyclical process of economic growth is due to the spasmodic nature of the implementation of technical inventions and innovations |
| 7 | The theory of underconsumption | J. Sismondi, K. Rodbertus-Yagetsov | Economic crises are rooted in insufficient consumption, falling share of wages in national income |
| 8 | Monetary theory | M. Friedman | The cyclical nature of production is explained by the instability of money circulation |
In any case, always proceed from the fact that it is hardly profitable for someone to give you truthful information. There is always someone who wants to manipulate you.
The great ancient scientist Plato has a magnificent work "On the State", in which he wrote 2.5 thousand years ago that when educating the servants of the state, they do not need to tell the whole truth. They don't need to be told myths about how the gods fought and one god ate the other god's children. They, on the contrary, need to be told about how good the gods are, and how they care about people. Since that moment, nothing has changed significantly, and everyone who writes various economic theories pursues some economic goals of their own. It is unlikely that anyone writes for free, everyone has some kind of interest, someone somehow earns money on them.
For example, Alan Greenspan's method of "earning money" is now quite carefully considered by a large number of analysts, you can look on the Internet, search why he has the theory of quantitative easing, why, who benefited from it, etc. Look, read.
I would like, not that you trust only me or anyone else, the purpose of my lecture is to lead you to trust no one at all. (Well, except for mom and dad. They are the only ones who have no interest in deceiving you.) Most people, providing information, act for their own selfish purposes. No newspaper will publish information that is not paid for. The newspaper will give that information at which the advertiser comes to it. The same with any media, websites, newspapers, TV shows. All of them exist at the expense of the investor: they give money, and political observers draw certain conclusions.
Let's get back to creating crises. For 30 years, there has not been a single natural crisis, everything was artificially created by people.
And we will slowly analyze from the most simple crises to more complex ones.
The simplest method of creating a crisis is war
A recent example is Yugoslavia. I remember her for a very simple incident: I talked to a very smart person who spent a lot of time abroad and at the time of the bombings made an investment in the city of Dubrovnik. I tell him: "Sergey Alexandrovich, what are you doing? Not the best time, not the best place to invest money." He then said: "The war will end, and Dubrovnik, as it was a resort, will remain so." More than 15 years have passed, and he really turned out to be right: it is now quiet and calm there. And his investments were rebuffed many times, the war ended, the weapons disappeared, some kind of order was established.
To understand how you can influence the real estate market, look on the Internet to see how prices have changed in the real estate market and industrial enterprises, for example, in the city of Belgrade. Before the war, before the decision to bomb and after the war. From this information it will be clear who could benefit from this: the one who knew when the bombing would begin and could play on this price.
If you know what kind of sponsors a politician has, you can guess which way the economy will move. At the moment, there are three large structures behind Trump: Goldman Sachs, General Dynamics, Exxon Mobil.
Understanding what is beneficial for these organizations, you can calculate what future they will do and what they will play on.
If we see that one of Trump's sponsors is a financial structure, we can assume that this structure will benefit from market instability. In correct economic parlance, this is called "volatility". This means that the market must move somewhere, that the price must not be stable, and the market price must move the farther the better. Then it will be possible to earn on these speculations. Then it will be possible to choose any Venezuela, buy certain options on it and start bombing. After that, the options will shift sharply, and this will be the so-called earnings, if you can call it mildly, not very legal income. Or choose some other country, buy options there in time and start bombing too. Then you can play in the opposite direction on the cessation of the bombing and, accordingly, implement the reverse positions.
This is what the big serious bandits who are in power in a number of states are doing. This is their business. If you understand this, you will be able to spread straws in time, as we call it. A friend of mine is now buying a hotel in Latakia, Syria. Apparently, if these people are investing, it can be assumed that the war in Syria is ending and will not start again. Because if money is invested, people are not interested in something bad happening.
"The main secret to making money is to buy when there is blood in the streets." Does anyone know what those words are? Write down this statement, then look on the Internet who said it.
Well, Damascus is far enough away. Let's see what happens in those places where people speak Russian. If you want to understand what our future may be, look at real estate prices in Donetsk, Luhansk. What they were like before 2014, what they became after 2014, what they were like during the war, how the movement went. Before the war, real estate was sold by those who knew, who understood, who predicted, who knew how to take information, put it together and predict the future. Someone started buying after the war started, and someone, on the contrary, ran away from there, never to be there.
One of my acquaintances built his savings for quite a long time on the fact that he earned money in Moscow, bought apartments in Kyiv and rented them out there. It was very profitable. At the same time, this man himself participated in the Maidan and was very surprised when his property fell in price, and no one wanted to rent these apartments. Moreover, the person is quite educated: two educations, one of them is foreign. There was no way I could explain to him: "You understood that a crisis had come that would lead to a fall in real estate prices." No, the person did not understand and eventually left our country, from Kyiv, saying that it was impossible to calculate anything in this country.
Everything can be calculated. From time to time, jingoists start shouting: let's conquer Ukraine. Strange as it may seem, there are many such people. Try at your leisure (each of you has an apartment, a house, a dacha) to calculate how much your own apartment will cost after hostilities begin between the Ukrainian army and the Russian army. This is for you, everyone. This is not my homework for you, I am not giving it to you, you yourself need it. Therefore, it makes sense to consult with parents, consult with relatives, and what will happen if all of a sudden this "bodyaga" really starts? Not only will people die in huge numbers on both sides, but in any case, it will be beneficial to someone. Someone wants to make money on this, as we call it. There are certainly such people, and our task is to manipulate these people in such a way as possible. so that they do not bring us a lot of loss. I'm not talking about financial loss - this is a consequence of the words that Rockefeller said: "Buy when the blood starts to flow."
You must understand that there are people who make money on blood. If you don't want this blood to be yours, consider the economic moves of these people (what they are going to do) and take some action. Over time, you will grow wiser, get some leverage in life, you will be able to somehow solve something alone, together, three, five. And you can somehow influence it. But this is not easy, not easy, for this you need to study, for this you need to listen to teachers, get positive marks from them and, in general, absorb information without fail and analyze it very carefully.
The next market, which is often accompanied by crises and in which speculators very often play, is the oil market. This is the most opaque market for goods. Usually some goods can be calculated. Wheat, cocoa, soybeans, commodities can be calculated by looking at satellite images, where everything was born.
In my opinion, there are three opaque markets now: cryptocurrency, gold, oil (the most opaque market). Oil moves in price from $10 to $120. It is difficult to understand why this happens, because the economy does not change significantly during these jumps. A lot of politicians, traders, investment bankers watch and analyze life on the oil market. Especially in our country, where the economy is tied to the oil market. Oil fell, respectively, the ruble depreciated. Oil has risen, the ruble has become stronger. Your income and life depend on it. The wage market in Russia was formed in rubles, and it is unlikely that it will switch back to the dollar, as it was 10-15 years ago.
A lot of crises that you can analyze were connected precisely with the movement of oil prices. Let's start with the simplest case.
«Seven Day War»
Jews fought with the entire Arab world. They ended up winning, the Arab world was offended and stopped supplying oil to America. More precisely, he sharply reduced supplies, and oil prices rose by about 5 times: from 10 to 50 dollars, if my memory serves me right. Well, this was the first most famous case of artificial price manipulation. Immediately after this, a major economic crisis broke out in the United States. It was very unprofitable for car manufacturers: before that, a large number of long, wide cars were produced (Cadillacs, Plymouths, and others). From that moment on, they began to produce significantly less. But it was very profitable for oil producers: Texaco, Shell, Exxon Mobile.
Another well-known manipulation is the collapse of the USSR by the collapse of oil prices. Reagan in 1985, under the slogan of "support for Afghan Muslims suffering from Soviet aggression," agreed with King Fahd of Saudi Arabia to sharply increase oil production. From 2 million barrels per day at the beginning of 1985, production rises to 6 million barrels, at the end of the same year - up to 9 million, and at the beginning of 1986 - up to 10 million barrels per day. Prices are falling sharply, but Saudi Arabia's revenues have not only not fallen, but even increased - production has increased 5 times, and the cost of oil has fallen "only" 3.5 times. At the beginning of 1986, oil costs $10 per barrel, while a year ago it was $32. Some batches of oil, its producers (including the USSR) are forced to sell even for $6 - the market is overstocked with it. Reagan is satisfied - the USSR has been brought to its knees. Gorbachev is forced to accept everything What does the US President propose? Reagan and his entourage expect that by 1992 there will be nothing left of the USSR. But unexpectedly, the survivability of the USSR and its main remnant Russia - or rather their sovereignty - is saved by ... Vice President George W. Bush. The entire post-Soviet world should be grateful to Bush.
How Reagan killed the USSR with the help of oil prices, and Bush saved Russia https://rusplt.livejournal.com/16123.html
If such low oil prices had lasted around the world for another couple of years, Exxon Mobil would have gone bankrupt. Therefore, the efforts of the Bush family to save the family oil business coincided and were aimed at supporting Russia, at its rise to the top and, oddly enough, at the same time supporting Russia. It is clear that they did not have a goal to support communism - they had a goal not to go bankrupt themselves.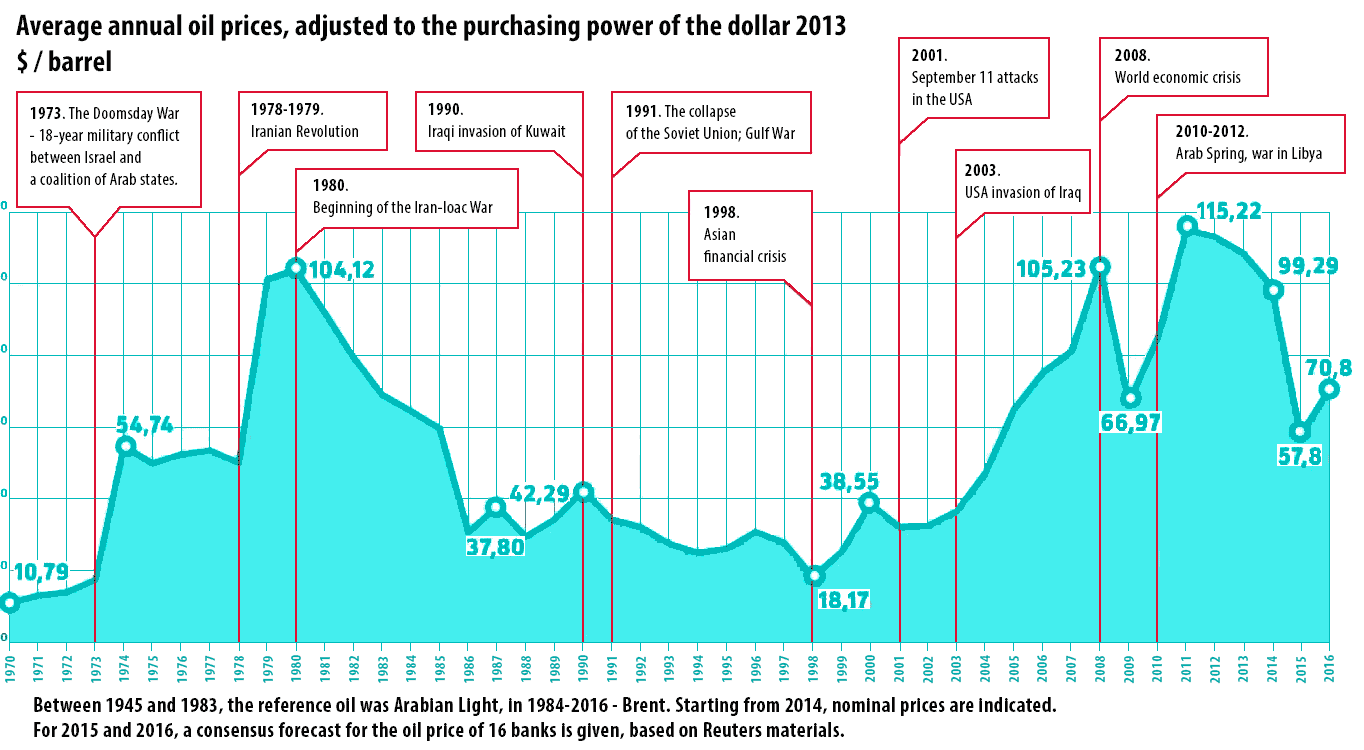 Thus, all these people manipulate the prices of oil and other goods. From a legal point of view, every country has monopoly laws and prohibition of price manipulation. But this is only a law, and for those ruling the state, as a rule, it is not written. They use it in their own interests as it is beneficial to them or as beneficial to those who put them.
The next example is the Syrian war. When Russia decided to intervene in the Syrian war, oil was worth $27 a barrel. Russia has spent about 2 billion dollars on the Syrian war, now the price of oil is about 65-67 dollars. Russia's exports from the moment we entered Syria to now have grown by $100 billion a year.
This is a real example where our president, the leader, made a smart economic decision. And this does not mean that we could not do more, and if Russia had not entered Syria, more people would have died there than at the moment. In any case, it was the manipulation of the military-political situation in order to increase the export of our country. In total, during the Syrian crisis, our country earned $200-300 billion from oil simply due to the price difference. Here, you all began to live better for this political step.
If someone tells you that we have not achieved any success in Syria, that we "did not finish the war", that we did not conquer something, you must understand that this was not why we went there. They did not allow to lay a gas pipeline from Qatar to Europe - this is a serious goal. If there was a gas pipeline from Qatar for export to Europe, then Europe would not need the "northern streams" and "southern streams". In Qatar, the cost of gas is close to zero, and it is geographically closer than our Urengoy or Naryan-Mar. This is a big serious policy, which, strange as it may seem, is aimed, among other things, at ensuring that we all live better. Because if oil were now at $20, and even gas would not be sold, we would live much worse.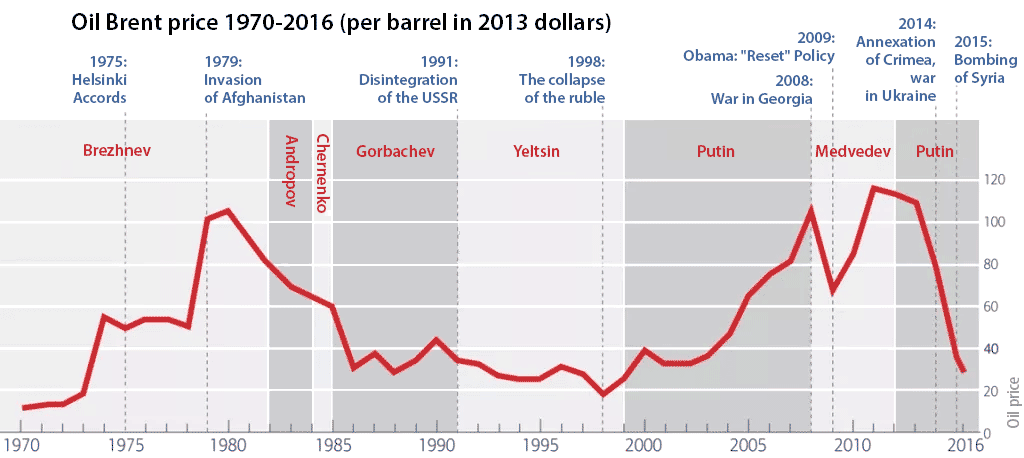 Now let's talk about other markets where you can dramatically reduce or increase the volume of goods. First of all, it is the money market. We are accustomed to measure the cost of all goods and services in money. Fortunately, we live in a civilized society and are accustomed to dollars and rubles. And if someone ends up in poorly inhabited places, in Siberia, where there is no particular connection with housing, no one measures anything in money there. They measure either in liters of alcohol, or in tens of liters of gasoline, there were still times when they were still measured for stew.
It took three years to increase oil production by 5 times
With a decrease in the volume of money supply by 5 times can be dealt with in three months
Those of you who will be involved in financing will be able to find out that the money supply (M2 aggregator) in almost any country can be reduced by 5 times in 3 months. The most obvious example is Lehman Brothers and the 2008 crisis. This is the clearest example of how quickly the money supply in the US has changed.
There are many legal, or rather official methods of managing the money supply. A number of theories say that in order to avoid crises in the economy, it is necessary to manage the money supply - increase or decrease. There are different multipliers for this.
I will explain popularly, very exaggeratedly and rather inaccurately.
So what is a multiplier internal reserve. Each bank must have its own funds and, in accordance with these own funds, can attract borrowed money, for which it issues loans. Relatively speaking, if a bank has a capital of 1 billion, then earlier it could attract 20 billion rubles from the population and issue 20 billion loans. But our government joined the so-called Basel, and the ratio dropped to 10. This means that banks can only attract 10 capital, and 10 capital will go into loans. Thus, the money supply, which operates the entire banking system, has decreased by 2 times. On the one hand, it reduces inflation. On the other hand, it reduces the amount of those credit funds that all entrepreneurs need in order to open a business, build a new workshop and produce a new type of wallpaper or sausage on it.
In the same way, the money supply can be operated with the help of government injections into infrastructure. The most famous case where government injections changed the economy is Nazi Germany. You can all see on the Internet how an absolutely impoverished country, devastated by the Treaty of Versailles and the First World War, quickly recovered. Due to the fact that they "drawn" money, but they did not use it for consumption, but for the creation of the famous German autobahns. For this money, they created a new infrastructure that significantly reduced the cost of production within the country. Goods from one point in Germany to another began to be delivered faster. But it is important not that goods are delivered, but that components are delivered faster and cheaper.
Now Germany is a country of mechanical engineering, it produces cars, machine tools, etc. There is not a single city in which BMW components could be made. Just because a BMW is made in Stuttgart doesn't mean that every single component is made in Stuttgart. This means that they can be brought cheaply and quickly from the places where they are made. And this cheapness of logistics creates a cheapness, respectively, of the goods, and makes it more attractive for export. Accordingly, those countries where roads are developed are easier to produce complex products that require a large number of components. And those countries that have poor roads can, as a rule, produce only those products that have a small number of components.
Further government injections into consumption
Greenspan was a proponent of the theory that people should be given as much money as possible and they would buy more goods. And due to the purchase of goods, the economy will develop. I already said at the very beginning that there are many theories, everyone is trying to move their theory forward, indeed, Greenspan's quantitative shift in the economy has had some effect. Indeed, the American economy has become a little more fun to develop. True, then it all ended in a gigantic crisis, Greenspan firmly asserted that he had nothing to do with it, they simply didn't understand how to act, and the regulator overlooked it. Now a large number of analysts have carefully considered how Alan Greenspan earned. Read on the Internet about his theory of quantitative easing and who benefited from it.
At the moment, there is no firm opinion, a fairly consolidated opinion about what is right. But at the same time, you can understand what actions will lead to what. By the way, look at the Lehman Brothers report, which he gave a year before his bankruptcy. It was written there that everything is fine with them, that they are the smartest, most high-tech and have a bright future ahead of them always. They received a huge number of positive ratings, after which they died themselves and pulled the entire market with them. Try to compare these reports with the reports of Sberbank of the Russian Federation and find differences and similarities, think about the bright future of yours and Sberbank of the Russian Federation. But only so that you make this conclusion yourself, because you live and you all this is to disentangle all that lies ahead.
There is also a rather weak stock market multiplier. Usually, it does not have a strong impact on the economy, but when we had an embargo after the Crimean war and America began to withdraw money (America withdrew about $100 billion of borrowed funds from Russia), this also affected us. Everyone noticed a sharp drop in the quotations of a large number of companies, many went bankrupt because of this. The financial sector and the development sector suffered the most, apartment prices fell. It could be predicted that military action would lead to political confrontation, and the means of financial warfare would be involved in the political confrontation. Those who understand this could have predicted this at the very beginning, as soon as the Maidan began.
Next, we will consider the most difficult, hard to understand, but the most hard-working method of managing the money supply, which is called «the strict inspection policy of the overseeing financial authority». In our country, this is the Central Bank of the Russian Federation. How it works?
If the Central Bank wants to stimulate the economy, it loyally looks at loans given by commercial banks. Let's say a borrower is in trouble. If they take the production line from him as a pledge, the Central Bank will fall behind.
As soon as the crisis begins: enterprises go bankrupt or begin to pay badly on their debts - the Central Bank can come and in all its banks, which it oversees, take a tougher approach to assessing loans. This is what is happening now, for example, in Russia. When the inspector of the Central Bank comes and says no, those loans are issued by, for example, the Ministry of Foreign Affairs, such a very industrial bank. He used to lend to the industry before, when he took all kinds of production lines as collateral, they looked at this business, somehow turning a blind eye. Now the Central Bank looks tougher and says, no, we demand to create reserves not just through collateral, but in real money. This means that the bank must not give away its income to shareholders, not spend it on its own development, but put it in reserve. If a large industrial enterprise does not return the loan, it can be replaced by this money. When these reserves are not enough, they begin to be subtracted from capital. And since they are usually lacking significantly more, with a ratio of 10 to 1, then, according to the Central Bank, very quickly the bank becomes with an insufficient amount of capital and its license is revoked.
So you can bankrupt any bank that is engaged in lending. For example, the Central Bank comes to a bank that has a loan of 10 billion and demands the creation of 6 billion reserves. The bank does not have such funds, so they are deducted from the capital and they say: "Your capital is zero, we take everything to the DIA or to reorganization, or we simply bankrupt you." This harsh method can kill the banking system in any country. The Central Bank can do this at the expense of certain recommendations to its inspectors.
In total, we have 3 fundamental types of risks with which you can influence the economic situation and create a crisis with a sharp influence:
"Country" risks are subdivided into risks of war, risks of riots, and risks of conspiracies or coups. Any coup, even a completely bloodless one, in any case dramatically affects the economic situation: investors see either stability or instability and begin to leave the country, or vice versa. But usually they try to get out, because if a country is not able to protect its "top", it is unlikely that it will be able to protect the investments of entrepreneurs on its territory.
The risks of the legal system. Investors invest in those countries where they can protect their investment. Let's say today you invested, and tomorrow you were nationalized and they said: "In time, maybe we will give something back." These changes in local legislation are monitored by investors and are very scary. To be on the safe side, investors in many countries try to enforce the laws of another country. We do the same: when big businessmen enter into big contracts, they write that the deal will be considered under English law. It is most convenient for large enterprises, so many people use it, moreover, even London courts use it. Thus, these risks are hedged, so it is not so easy to create crises with their help.
Industry risks. Now we are witnessing one of these mini-crises: Calvey is arrested - they did not agree on something regarding Vostochny Bank. The second opponent, Avetisyan, is close to the top leadership of our country, and here it is clear that there is protectionism, at least they are accused of it. A large number of those invited to the St. Petersburg Forum promised not to come. What will come of this, we do not understand, but these risks are small.
The most serious financial risk is called the "money multiplier". (I'm giving a very popular explanation, but a more serious one can be found in Samuelson or Campbell.) The bottom line is that the money thrown into the banking environment does not work in a single bank. If you put a deposit in some VTB, then it is unlikely that VTB itself will lend this money. He will most likely give them to some other financial intermediary - a bank that is slightly smaller, but takes money at a higher rate. Take Alpha Bank. Let's say you took $ 1,000 to VTB, VTB reserved 5% of the Central Bank (there should always be some kind of reserve), and gave the rest to Alfa Bank. Alfa Bank found someone to lend, if not, he gave it to a simpler bank, the Ministry of Foreign Affairs, for example, if there is nothing else, or to someone else.
In a good banking system, a well-developed financial system, like the American one, money can go through 10 financial intermediaries. Intermediaries are not only banks: they can be factoring companies, microfinance organizations, leasing companies.
| | | | |
| --- | --- | --- | --- |
| | | 5% | |
| Financial intermediary | Contribution | External reserve in the Central Bank | Amount to lend |
| first | 1 000 | 50 | 950 |
| second | 950 | 48 | 903 |
| third | 903 | 45 | 857 |
| fourth | 857 | 43 | 815 |
| fifth | 815 | 41 | 774 |
| sixth | 774 | 39 | 735 |
| seventh | 735 | 37 | 698 |
| eighth | 698 | 35 | 663 |
| ninth | 663 | 33 | 630 |
| tenth | 630 | 32 | 599 |
| | 8 025 | 401 | 7 624 |
Please note that if the reserve figure is 5%, then from $1000 the multiplier increases this figure to 8. Together, the banks, all 10 intermediaries, have 8 thousand dollars out of one thousand.
And what will happen if this reserve percentage is slightly raised, say, to 10. Please note that the Central Bank changes the reserve rate from only 5 to 10, and the money supply of ten intermediaries is reduced from 8 to 6.5. This is the most significant multiplier that can work simply due to the fact that each of them is forced to reserve a little more.
| | | | |
| --- | --- | --- | --- |
| | | 10% | |
| Financial intermediary | Contribution | External reserve in the Central Bank | Amount to lend |
| first | 1 000 | 100 | 900 |
| second | 900 | 90 | 810 |
| third | 810 | 81 | 729 |
| fourth | 729 | 73 | 656 |
| fifth | 656 | 66 | 590 |
| sixth | 590 | 59 | 531 |
| seventh | 531 | 53 | 478 |
| eighth | 478 | 48 | 430 |
| ninth | 430 | 43 | 387 |
| tenth | 387 | 39 | 349 |
| | 6 513 | | |
Usually, central banks and other supervising companies operate with numbers 5, 10, I remember from memory, the maximum was 20, when there was hyperinflation, everyone had to reserve 20%. But if there is some stock player who needs to drastically reduce the money supply, how does he do it? He creates some kind of crisis with the help of some kind of bankruptcy - such that all financial intermediaries are afraid to lend to someone and would create not external, but internal liquidity reserves.
What are internal liquidity reserves for? Let's say panic sets in: oh, all the banks are dying, now the license was taken away from the Ministry of Foreign Affairs, back and forth, I'll go and take my 1000 dollars from this Vneshtorgbank. And where did he get them from, if he just gave them to Alfa Bank? He doesn't have them. This means that he quickly begins to form internal reserves for the possible arrival of depositors and possible demands to return their deposits back. Therefore, he no longer places new thousand-dollar deposits anywhere, but simply keeps somewhere in the cash register or on an account in order to return them to someone. And the rate of this internal reserve becomes 80 and, accordingly, the amount of money in the economy instead of 8 thousand becomes only 1250 dollars. It means that they give someone there, completely their own, completely reliable, but the money supply collapses sharply.
êðèçèñ äîâåðèÿ
80%
Financial intermediary
Contribution
External reserve in the Central Bank
Amount to lend
first
1 000
800
200
second
200
160
40
third
40
32
8
fourth
8
6
2
fifth
2
1
0
sixth
0
0
0
seventh
0
0
0
eighth
0
0
0
ninth
0
0
0
tenth
0
0
0
1 250
I have also seen the creation of large panics. The most famous case, very well described in the literature, is LTCM.
Long-Term Capital Management was the world's largest hedge fund created by great people. The two most famous collaborators are Nobel laureates in mathematics, who proved the theory of convergence of spreads when playing between interest-bearing bonds and fixed income bonds. It's hard to explain what it is, but bonds are measured in two ways, and if you play between them, they figured out a solid pattern of how to make money.
Only they did not consider that when the boundaries between these two types of bonds are moving apart, it takes absolutely "immeasurable" liquidity to play in this market. The hedge fund was making a lot of money, attracting a huge amount of deposits, and had a lot of leverage until 1998, when the Russian public debt system went bankrupt. And the difference between the two types of bonds went very far, and they simply could not have enough money to close their positions. This LTCM collapsed, leaving an official loss of about $1 trillion. To unravel this trillion, the entire Federal system was gathering. They almost manually measured debts and ended up with $50 billion in debt that they were able to close.
This greatly affected the economy. Ordinary people felt it in their mortgages and auto loans. After all, what do banks do at a time when they have an influx of depositors who demand to give money back? They're liquidating all these mortgages at any price, at any price. At this moment, the market price is "any", it is about 10%, sometimes 15% of the price that was originally. Therefore, if you look, you will find on the Internet many figures on how much banks liquidated houses and cars (one-year-old cars were sold for $5,000, $10,000). Residential houses, where people lived, were sold at auction for 10, 15 thousand dollars. As a rule, it was not long enough, but those people who had money at that moment, and these were people who somehow foresaw this situation: maybe they knew about it, or maybe they foresaw it.
Well, and, accordingly, the history of Lehman Brothers. Also, few modern analysts say that it is natural. In fact, Lehman Brothers could have been saved for, literally, 50 or 70 billion dollars, which, according to our measurements, for our country, that there 3-5 is not money, but at that moment the main positions in the Fed were occupied by people from a competing with Lehman Brothers of Goldman Sachs investment bank. They voted not to give money to Lehman Brothers. For some reason, they thought that one Lehman Brothers would die, and that would be the end of it. (I don't understand: they are so stupid or really predicted a fall). But Lehman Brothers pulled the entire financial system with it - almost all investment banks in the United States changed hands. Fannie Mae, Freddie Mac, this probably doesn't mean anything to you, but in any case, if you look, you will understand.
So, all crises basically arise as a result of panic. This panic can concern different areas:
If this is a war, then the panic concerns the sphere of health and life. This is what is happening now in the Donbass. They tell us that they kill a lot there, but I talked with the people who live there: now the losses are 3-5 civilians per day. What I'm going to say will sound a bit blasphemous, but it's a fact: more people die in car accidents, even there. In Moscow, civilian casualties from crime amount to 20 people a day. They don't write about it anywhere, they don't talk about it on TV, but you need to understand what you're starting from, what kind of society you live in. These are only those whose corpses were found, there are still missing people who are not included in the statistics. They were either very competently disposed of - they usually dispose of them in landfills: they bring them, the homeless take the corpse, and they never find it again. Either these are people who have left somewhere, are alive, happy, just hiding from someone. Therefore, we must understand that in many wars there is a significant distortion of information. Either the media shout: "Ahh, they will kill us all," but in fact there are deaths, but there are not so many of them, or, on the contrary, everyone is silent, and a very large number of people die. Either way, it's panic.
Panic of losing money and going bankrupt: "We won't have any money left." What is happening now in the Russian economy: "Ahh, what if Otkritie doesn't return money to anyone." Let's say something was stolen, something was lost, but absolutely no one - it's unlikely. If we take a tough approach, then at the moment not a single Russian bank that is engaged in large-scale lending is able to give money if all depositors come at once and demand money. There is no bank in the world that will give all the money in one day. It's impossible, this business is basically impossible to build like that.
Scarcity panic. In 1973, the Arab world made limited supplies of oil to America, and everyone shouted loudly: "Ah, there will be nothing to ride." In fact, there was oil, and there was something to drive - not so much and more expensive, but basically it was a panic.
Let us especially note the food panic of 1917. This will help to understand why the country suddenly became Bolshevik from a tsarist one. In February 1917, as many believe - by order of the German command (at that time they were at war with Germany), rumors spread that snow drifts prevented the delivery of grain and other food to the city of St. Petersburg. The population ran urgently to buy bread, flour, grain and bought up all the stocks that were in stores. And indeed, there was no longer enough food, because everyone bought a 5-fold, 6-fold supply.
If now you create a panic that tomorrow there will be no Cherkizovsky sausage, and everyone will run to buy it in 5-fold sizes, then in 3 days it will really turn out that it is not on the shelves, because everything is sold out. But people will say something completely different - not that they have made reserves. Vysotsky says this about it: "You know, yesterday they dug a trench, dug up 2 cognac jets, and the spies poisoned the water with moonshine, well, now the bread is from fish scales. And, like flies here and there, rumors circulate in the yards, and toothless old women carry them around the minds. It worked in 1917 when the Russian people very easily believed that there really was no bread. Everyone went with mass protests, which in the end was a very large part of the transfer of power from the king.
Creating media crises. The most famous example of creating media crises occurred in December 2014. More than 1 million people received SMS: "Your credit card will be blocked tomorrow, withdraw money immediately." Everyone ran to Sberbank to withdraw cash. From December 10 to the New Year, people withdrew about $25 billion from Sberbank, succumbing to the panic created by SMS mailings. 50 billion cash was brought from America, because people took money in rubles and immediately exchanged it for dollars. At that moment, Gref and Nabiullina coped with this, but by and large it should have ended in the bankruptcy of Sberbank.
We then calculated this case from the point of view of the economics of its creation, you will not believe it: the crisis cost 200 thousand dollars. Sending this amount of SMS at a wholesale price is very inexpensive. There are SMS aggregators that cheaply send one message to a large number of people. In addition, about 2,000 fake Facebook accounts were created - as they later looked, they were all created on the territory of Ukraine, IP addresses led to the city-state of Bahrain, where the battalion of the US information and psychological troops is located. There, 100 people created 2,000 accounts and they wrote news that there would be no money tomorrow. That crisis was created by the forces of one company and 200 thousand dollars.
At the moment, if you spend a million dollars, you can create an even more serious crisis. Therefore, a bill on fake news is being created now - the legislator is thinking about how to avoid mass panic, which is easy to create through Facebook, SMS, Instagram and other media that are not controlled by the state.
But this does not mean that official media cannot create mass panic.
2000. Computers freeze, everything stops, rockets launch, we all die!
2001. Anthrax is sweeping the world, we will all die!
2002. West Nile virus. We all die!
2003. SARS, "purple death" from China. We all die!
2004. We'll just die.
2005. Bird flu. We all die!
2006-2008 Economy flies into the abyss. We all die!
2009. Swine flu. We all die!
2010. BP Oil. The Gulf Stream stops. We all die!
2012. The Mayan calendar ended. We all die!
2013. North Korea with an atomic bomb. We all die!
2014. Ebola. We all die!
2015. ISIS (Prohibited Organization) Against All. We all die!
2016. The rat hepatitis E virus began to be transmitted to humans. We all die!
2020. Coronavirus paralyzed the world. We all die!
March 27, 2020
Coronavirus will kill 40 million people if left unchecked
https://www.vesti.ru/doc.html?id=3251764
March 21, 2006
Avian flu pandemic could kill 70 million people and crash oil prices
https://www.vesti.ru/doc.html?id=76633
Feb 14, 2020
Expert: coronavirus could infect two-thirds of the world's population
https://www.ntv.ru/novosti/2292320/
June 7, 2009
WHO: A/H1N1 influenza could infect a third of the world's population
https://ria.ru/20090507/170283819.html
Feb 16, 2006
Bird flu pandemic could kill more than 140 million
https://ria.ru/20060216/43579445.html
Apr 26, 2003
SARS: one in seven can die 16+
https://www.ntv.ru/novosti/19714/
Dec 22, 2006
Flu can have dire consequences 16+
An influenza epidemic could kill over 80 million people on the planet. 16+
https://www.ntv.ru/novosti/100329/
March 2, 2020
Why the new coronavirus is very serious?
https://www.vesti.ru/doc.html?id=3244673
About 650,000 people a year die from the flu worldwide. If COVID-19 becomes as widespread as the flu, 13 million people will die (!).
November 29, 2004
The world is facing a terrible epidemic 16+
This winter, an epidemic could begin that could claim millions of human lives around the world, said the director of the WHO Asia Department.
https://www.ntv.ru/novosti/56211/
September 19, 2019
Scientists talk about a new flu that can kill 80 million people
https://www.ntv.ru/novosti/2234940/
Feb 15, 2005
Scientists are looking for a vaccine against a new virus 16+
Influenza with the harmless name "avian" in the coming years could claim tens of millions of human lives. 16+
https://www.ntv.ru/novosti/60308/
Aug 5, 2009
WHO: new flu will affect about 2 billion people
https://www.vesti.ru/doc.html?id=307618&tid=73933
July 26, 2013
WHO: new coronavirus deadlier and more dangerous than SARS
https://www.interfax.ru/world/320445
June 17, 2015
WHO does not consider MERS a global threat
https://www.vesti.ru/doc.html?id=2630787
Apr 14, 2020
WHO: Coronavirus is 10 times more deadly than swine flu
https://www.ntv.ru/novosti/2323222/
Jan 14, 2004
https://www.ntv.ru/novosti/37287/
March 17, 2003
A deadly disease threatens the whole world 16+
https://www.ntv.ru/novosti/16465/
Apr 28, 2003
Only global quarantine can save from deadly pneumonia 16+
https://www.ntv.ru/novosti/19789/
June 10, 2003
The epidemic gave birth to a fashion for bra masks. Details NTV 16+
https://www.ntv.ru/novosti/20628/
March 27, 2020
Handmade masks: it makes no sense, but it's beautiful
https://radiovesti.ru/brand/61016/episode/2257787/
Any information you receive should, first of all, be analyzed by you. To live for you - not for those newspapermen who print it, not for those teachers who teach you, you will have to live and sort out everything that you yourself can get into or organize organized things that you could accidentally step into. Therefore, any information received from me, from teachers, from newspapers, should be analyzed by you personally. This is the only way to take some measures so that you can survive in this environment, create a family, raise children, and then teach them how to survive.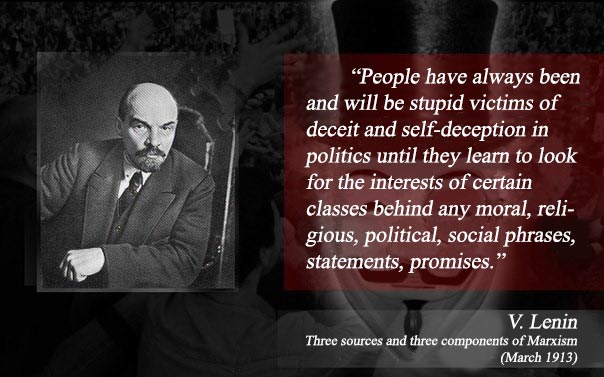 Thank you for your attention.